Associates, will 2016 be your BEST year yet? Las Cruces Real Estate offers FANTASTIC tools for self-motivated associates
Tired of exorbitant splits, high desk fees, technology fees, transaction expenses and other hidden costs?
Those big parties, conventions and expensive dinners?
Do you want to take that nice trip, buy a new car, increase your lifestyle, instead of doing it for your broker and multiple administrative entities?
We are an AGENT-CENTRIC brokerage, creating the best opportunities for associates to succeed in Las Cruces, and we are looking for a FEW self-motivated associates.
We do not place production requirements on our agents, but we are there to help those serious agents who want to build a solid, profitable business. #nopressure
Profitable associates are happy associates!
Our high-end marketing company, Curaytor, has a back-end system that is unparalleled, and we obtained the exclusive rights to their services for Dona Ana County.
Create beautiful, high-quality, high-tech, intense marketing for your listings.
Experience the BEST training, by a broker who is actively working and understands your challenges, as well as other outside real estate experts.
Become an expert yourself in the Las Cruces Real Estate market by actively listing and selling high quantities of properties.
Access our high-tech, back-end system for your marketing and selling.
Create beautiful Facebook ads, generating thousands of views.
Other brokers are imitating our system, but they do not have the complex back-end marketing and distribution. They do not get close to the volume we are generating.
Notice the number of "people reached" is 5,961. More than 5,000 and this was only a 4-day ad!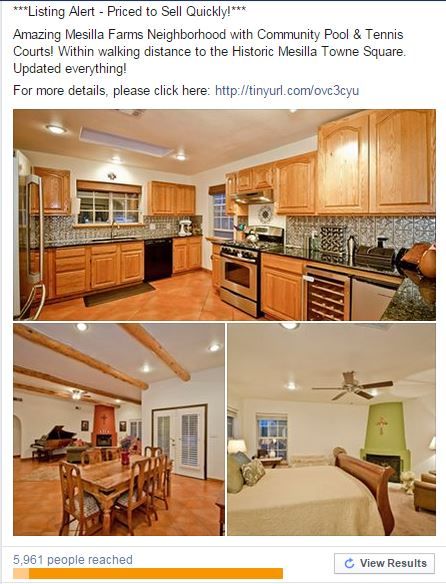 Create a better life for you and your family, in a small, caring environment, designed for your success.
Please call, text, email or Facebook message Steve (575) 640-9481 for a confidential consultation, or click here: https://on.fb.me/23aVQ8X.
All inquiries will be kept strictly CONFIDENTIAL.

Or, click here now!